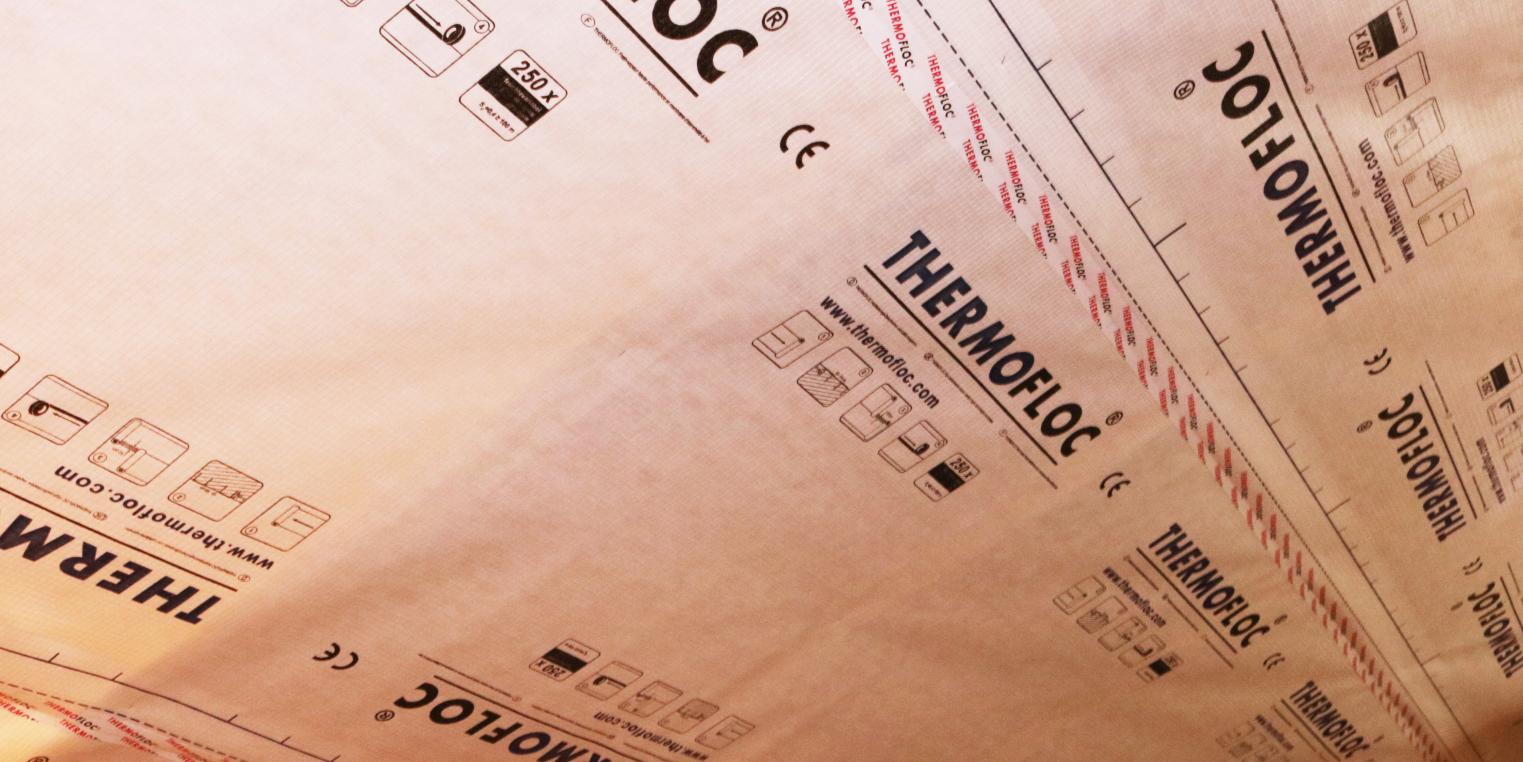 INSULATION SYSTEM
One insulation, various options.
Insulation materials are used for floor, wall and roof applications. THERMOFLOC injectable insulation used in combination with THERMOFLOC vapor control layer, breather membrane and the adhesive products provides an uninterrupted, efficient insulation system that meets the highest quality requirements.
THERMOFLOC vapor control layer
Our vapor control layer is a vapor-resistant lining and airtight membrane that protects the construction reliably against moisture. It can be used for internal wall and roof applications. The reinforcement of the membrane provides high tear resistance and can be perfectly combined with THERMOFLOC injectable insulation. The THERMOFLOC vapor control layer is fastened to the substructure by means of stapling or gluing.
THERMOFLOC breather membrane
THERMOFLOC breather membranes protect the construction from driving rain and thus prevent any penetration of moisture into the roof or wall structure. The membranes are UV-stable, particularly tear-resistant and extremely open to diffusion. The breather membranes are tacked overlapping on the outside of the roof, under the roof covering, to provide optimal protection against wind and rain.
THERMOBAG system
This system provides a way to insulate roofs cleanly and cost-effectively, also when retrofitting existing buildings. The only requirement is suitable access to the partitions via the top storey. The THERMOBAG consists of a vapor barrier (sd-value about 10.0 m) on the room side beneath a waterproof PP membrane (sd-value < 0.04 m) open to diffusion on the outside for ensuring optimal protection for thermal insulation.
THERMOFLOC adhesive tape
Our THERMOFLOC adhesive tape with a roll width of 5 or 6 cm is specially adapted to our THERMOFLOC products and, combined with the THERMOFLOC vapor control layer and the THERMOFLOC breather membranes, constitutes a complete thermal insulation system. In addition to the airtight sealing with THERMOFLOC vapor control layer and THERMOFLOC breather membrane, the tape can be used for affixing joint connections onto timber product boards (e.g. OSB boards, plywood boards, etc.).