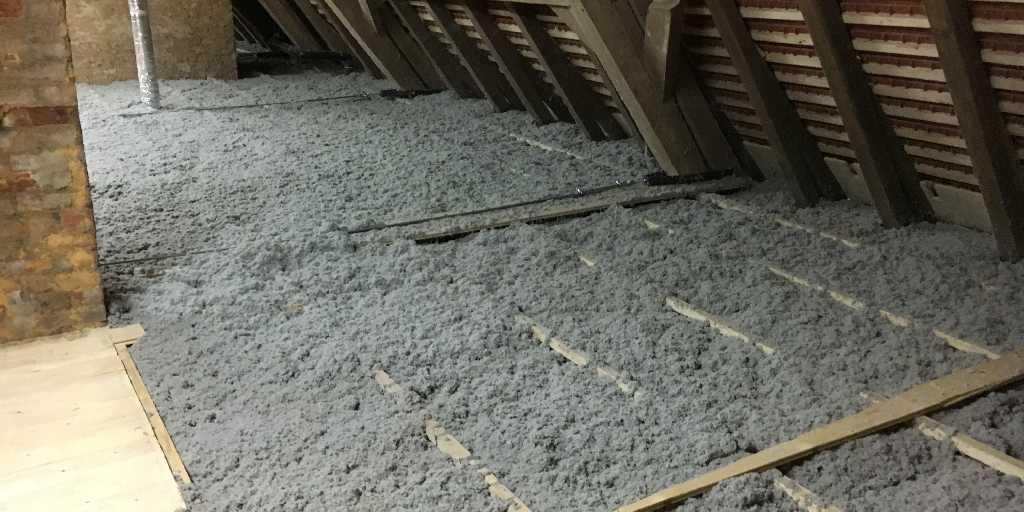 Floor/Ceiling insulation
As heat naturally rises, it will escape almost unobstructed through the ceiling if the rooms below are heated either rarely or not at all or if they lie directly under inadequately insulated flat roofs. Particularly ceilings in older buildings are either insufficiently insulated or have no insulation at all, especially the uppermost storey and the cellar ceiling. Precious heating energy flows practically unhindered into the unheated rooms producing high energy costs. By insulating the ceilings with cellulose insulation material, the heat stays where it belongs.
Floor insulation is used exclusively as a non-pressure-resistant insulation on the horizontal level (ceiling on the top storey, between joists in a wood-joist floor construction).
If the wood-joist floor construction is suitably accessible, the insulation product made of cellulose fibers is processed by machine and blown on as an open layer into the cavities. THERMOFLOC floor filling is particularly recommended for this insulation method.
If the wood-joist floor construction is not accessible, the cellulose insulation material is transported into the hollow spaces by means of specially equipped blowing machines. THERMOFLOC blow-in insulation has proved to be a very suitable product for this purpose.
Apart from being the ideal thermal insulation product, cellulose fibers, due to their nature, have also perfect sound absorbing and regulating properties, providing adequate protection from noise disturbance to ensure peace and tranquility as well as health benefits. Depending on the application, our cellulose insulation material makes sure that unpleasant noise does not penetrate from outside, sound transmission between rooms is reduced and reverberation in the rooms are kept to a minimum. Both in terms of airborne sound caused by loud music, for example, or impact sound.
Further areas of application